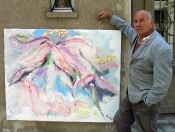 Rastislav Michal was born on 9th June 1936 in Teplice – Šanov (Czech Republic). The background of the family in which he grew up has formed his childhood and youth and later his entire journey through his life. It was his mother, a writer and poet known under the pseudonym Renata Horalová belonging to the late circle of the "Modern Revue" who influenced him to a large extent. Due to the Nazi occupation of the Czech border area in 1938 the family left Teplice and settled permanently in Prague. The flat in the house at the river bank opposite the National Theatre was nice, sunny, in the centre of the town and tastefully furnished. Michals' "saloon" was frequented by distinguished guests who always enjoyed visiting there. For example Jarmil Krecar, the librarian of the National Museum, friend of V. H. Brunner and author of publications on the art of books, essays on literature and works of art; Jiří Karásek ze Lvovic (of Lvovice), František Kobliha, Jan Opolský, Alois Hába, Emerich Alois Hruška, Josef Bohuslav Foerster (he set poems by R. Horalová to music), Jaroslav Seifert and others.
Rastislav Michal himself remembers: "Jarmil Krecar had big influence on me. His wife Klementa (the couple however did not maintain common household anymore for a long time) posed for Jan Štursa for the sculpture "Tribute of Heaven and Earth". She was tall with a bit reddish hair, I suppose, she even translated something from the book series of Modern Library; and when I met her from time to time she was very kind to me and autographed her translation for me. I was fascinated by the fact that this woman was Štursa's model. As if I got to know Štursa himself.
I don't need to introduce Jiří Karásek of Lvovice very much. He visited us with his niece Mrs. Lipanská. She looked like a character from some novel by Honoré de Balzac. The poet Karásek was a vegetarian for many years. My mother always cooked something delicious for him; nevertheless, his favorite dish was a soup with "vegetable" dumplings. He really enjoyed it and wished to know the recipe for this titbit. But my mother never told him, since she would have had to admit that the dumplings were made of pâté. Jiří Karásek even gave us his manuscript of "Loretto Meditation" ("Loretánská meditace"). I really liked his archaic handwriting: a kind of Gothic-like writing. I thought I had to write like this as well, so much he influenced me. I started to place letters upright, to enlarge them so that they looked like a Gothic print.
The third of my "Fates" was Emerich Alois Hruška, an author of stage plays, satirist, but also a graphic artist every now and then, painter and drawer. He lived in Rybná street in a small attic flat, which my mother and sister Renata came to tidy up once a year before Christmas. He was our guest on Tuesdays; he always brought various newspapers from the previous week. And there was a gift of food each time for him to take home.
It was in 1947 that my father brought me a small paintbox full of colours and E. A. Hruška taught me a little bit how to use the colours. It was quite logical that I was always proud to show our guests what I had painted, how I had engraved my first linoleum plate and how I had (crudely) printed it. E. A. Hruška even shared a flat with J. Krecar for a certain time. He sometimes made fun of him and others calling them "small Czech aristocracy" for their fictitious "nobility". However, I did not mind that. And thus, I became "the Lord of Michalovice". I made my own ex-libris label representing a lamb, such as that of Bohuslav the Elder, the Knight of Michalovice; I also made a design for a ring of nacre, carved by Mr. Peřina from Žirovnice, an ex-employee by my grandfather pearl-worker from the side of my mother (she came from there). Nevertheless, I soon realized that the real nobility was a sublimity of the spirit and nothing else.
(…)My journey to painting and graphic art was not quite direct. In the beginning I even digressed from it – to the stage. I performed with Voskovec and Werich in Švandovo Theatre in the play "He Came for the Dinner" in 1946-1947. I got to know a lot of actors and actresses (Ljuba Hermanová wrote into my album: "Lilies of the valley are tiny and so are you, Rastislav.") But I did not want to become an actor. Neither piano player nor the composer. Although I used to play organ in various churches – the sound of organ fascinated me so much, or I frequented piano classes under the wife of Ivan Medek, whose family lived in the opposite house I finally decided myself for painting, drawing and graphic art."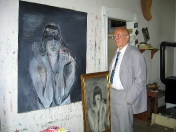 In 1951 Rastislav Michal passed the entrance examination at the School of Fine Arts in Prague. There he began to familiarize himself with all art techniques, as well as typography and bookbinding. It was especially the graphic art which he penetrated under Professor Jaroslav Vodrážka. He finished the studies in 1955 and immediately thereafter he was admitted to the Academy of Fine Arts in Prague. He attended the Studio of Figurative and Portrait Painting first under A. Pelc, then under M. Holý and finally K. Souček. After the graduation in 1961 there followed a "Year of Honour" at the Academy and the scholarship of the Union of Fine Artists in Prague (1963). Towards the end of his Academy studies he obtained a studio in the Old Town in the "By the Municipal Court Street" ("U Obecního dvora") – the so-called "Mánes Tower". Later on he moved to the sizeable studio (formerly used by the painter Jan Trampota) in Pařížská Street in Prague and worked there for forty years. It was the place where Michal's career of professional artist as a painter, graphic artist and illustrator has begun.
From the end of the fifties and in the course of the sixties he continued the Classical tradition of modern painting. His works are characterized by a sculptural, voluminous interpretation of form, by a painterly cultivated language ("Lovers", 1963; "Modern Olympia", 1963; "Painter and Model", 1968; "Three Women from Turin", 1968). Michal's Classicism represented a "silent" revolt against often one-sided modernism as well as dilettante "non-art"; it rose from the necessity to counter the narrow-mindedness and poorness invading the cultural life.
From the turn of the sixties and in the seventies his art expression became more dynamic; it began to depart from the Classical sensitivity, surely due to the tough times. The expressiveness culminates during his study visit in Paris (scholarship of the French government) in 1975 in the paintings such as "Triple Portrait", "Lady Friends" or in the series "From Paris". In the second half of the 1970's other important works were created: the triptych "Beach" (1977) and series of paintings "From the Fifth Quarter" (1978), "Acrobats" (1979) etc.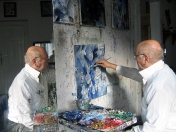 The paintings of the eighties such as "Figure IV – Grande Odalisque", 1981; "Lovers from Pompeii", 1984; "Studio", 1984 are endowed with erotic fascination. The author discovered new spatiality as well as spectrum of colours. He executed important portraits (Z. Sklenář, 1978; J. Bauch, 1982; J. Kotalík, 1986 etc.). The themes of still-life and landscape also permeate Michal's work. The acquaintance with Norwegian and Icelandic nature inspired him to a series of paintings with motives of the sea and volcanoes (1988-89). They have nothing to do with immediate "impression" of nature; they represent deeper reflections on life and fate. The series "Labyrinth of Scripture" (1990-91) made under the impact of Old Testament scrolls showed a new direction in the painter's creation.
The canvases executed after 1991 proved its many-sidedness. The Classical topics seem to disappear under the force of gestural painting ("Women in the Swimming Pool", 1996; "Three Graces", 1998), they are appropriated and set into different contexts ("Auction", 1999; "Girls at the Riverside", 2001). The author holds up a mirror to the world of today (series "Models", 1996-97; "Cream & Dream", 2003; "Women in the Flowers", 2004; "Graffiti", 2003-2005; etc.). He has taken up motives of landscape again (triptych "From Šárka", 2003; series "Slope", "Trees", 2002, 2004; "Icebergs", 2005). Nonetheless, the figure and portrait in his art work still prevail and he has continued this tradition in Czech modern art. Rastislav Michal is one of few contemporary painters who has chosen the Classical path. He has proven that the real quality art arises from the synthesis of sensitivity and profound intelligence.
Following publications can be purchased in our gallery or by mail :
L. Hlaváček, Michal – Gemälde, Frankfurt am Main, 1988 (in German); 200 CZK

L. H. Augustin, Michal – Zeichnungen, Frankfurt am Main, 1990 (in German); 200 CZK

R. Michalová, Michal – Paintings, Praha, 1999 (in English and Czech – bilingual version); 200 CZK